Los miembros de honor son seleccionados por invitación, si usted tiene algun candidato cuya contribucion a los sistemas Lean Six Sigma sea prominente, por favor envíe solicitud y curriculum a contacto@leansixsigmamexico.com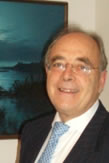 Richard Parker
Director of Partnerships, British Quality Foundation
Richard is Director of Partnerships at the British Quality Foundation (BQF), with a remit to develop mutually valuable partner relationships as well as promote the Lean Six Sigma Academy, and the Levels of Excellence (LoE) recognition programmes. Appointed to his current position in 2002, Richard is also a Director of Perfex Training, a joint venture training company.
Richard joined the British Quality Foundation (BQF) in 1994 with a remit to help launch the new UK Quality Award and went on to become Director of Awards from 1996 to 2001.
In 2002 he was made Director of Partnerships, Programmes, Joint Ventures and IT and as part of this role, helped form Perfex Training, launched the BQF IiE and LoE programmes, introduced the BQF Six Sigma Service initiative and replaced the BQF membership and accounting systems.
Born and educated in New Zealand, Richard came to the UK to work for the New Zealand High Commission, before joining ICI in 1970. During his time at ICI/Zeneca, Richard worked in marketing and general management roles in Africa, Asia, Australasia, Canada, Caribbean, Europe and South America.
Throughout this period he travelled extensively and managed ICI offices in Indonesia, South Korea, Sri Lanka and Africa.
In the early 1990's Richard initiated a series of change management and quality initiatives, promoting continuous improvement in ICI/Zeneca companies internationally the world.